Parent Checklist
The parent checklist includes questions and resources that parents and caregivers can use to help ensure their children are getting the education they deserve.
It was created in collaboration with U.S. Department of Education, America Achieves, National Council of La Raza and the United Negro College Fund. The checklist also offers key questions, tips for educational success and resources for parents.
Read the Parent Checklist
Family Engagement Resources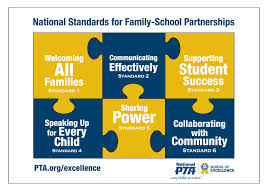 The Positive Relationship Between Family Involvement and Student Success
In the 2002 research review A New Wave of Evidence: The Impact of School, Family, and Community Connections on Student Achievement,Anne T. Henderson and Karen L. Mapp conclude that there is a positive and convincing relationship between family involvement and student success, regardless of race/ethnicity, class, or parents' level of education. To put it another way, when families are involved in their children's learning both at home and at school, their children do better in school. The report also points to specific types of involvement as being especially beneficial to children's academic success. Learn More
The "T" in PTA stands for teachers!
Sometimes we forget that the "T" in PTA stands for teachers. Teachers and school staff members are crucial partners in our children's success. Encouraging them to join your PTA should be a focus of your membership campaign. Here are some ideas for getting them involved:
Getting Teachers Involved!
Arrange to provide a breakfast for teachers prior to the start of the school year. Use this breakfast as an opportunity to talk to the teachers about the value and importance of joining your PTA.
Award teachers and staff with a party or lunch when 100% teacher and staff membership is reached.
Request a bulletin board or showcase at your school to display current information about PTA activities.
Use back to school nights as an opportunity to speak with both teachers and parents about the importance of joining PTA. Prepare a short presentation. Be sure to have the permission of your principal.
Include PTA materials in information packets given to teachers and staff at the start of each school year.
Enlist the support of your principal. A principal's encouragement to join can go a long way.
Print out personal invitations asking teachers and staff to join and include a membership envelope. Remind them that for the cost of a few coffees at Starbucks they can support our national organization of more than six million members!
Some other ideas: Parent Involvement is what PTA does best and it's the law. Remind teachers and staff that PTA helps them to fulfill the Parent Involvement mandate of No Child Left Behind.  Get to know your teachers. Sometimes teachers or staff may be reluctant to join because of a prior bad experience with PTA. Apologize for whatever may have happened and talk to them about how PTA's work benefits not only the children but the teachers as well.  The teachers and staff expect to be asked to join. If they expect it and you don't ask, they might feel they are not needed or welcomed. Remember to ask.  Remind teachers and staff that PTA is more than a local fundraising group for their school. It is an organization focused on the education, safety, and well-being of children.
A Letter from The Colorado PTA President
On behalf of Colorado PTA and our 25,000+ members, we would like to thank Governor Hickenlooper, and the State of Colorado for proclaiming October as Parent Involvement month.  I would also like to thank Lieutenant Governor Joe Garcia and Commissioner Robert Hammond for their support of parent involvement. Parent involvement is crucial for student success, and is key to ensuring that we have a viable workforce for the future.  As a co-owner of a small business this is important to me, but student success is especially crucial to me as a parent. A groundbreaking study in 2010 on school improvement found that parent involvement was identified as the key ingredient for school turnarounds.  So not only does parent involvement support student success – it supports effective school reform.  This study specifically evaluated school improvement in low-income, urban schools.  They found that elementary schools with strong parent involvement were 10 times more likely to improve in math and 4 times more likely to improve in reading than schools weak in parent involvement.  For school improvement to be successful, schools must treat parent involvement as an integral part of the school. In 1997, National PTA convened the many different stakeholders whom we represent to develop the National Standards for Family-School Partnerships, which for the first time, articulated what parent involvement should look like at the school level.  In 2001, National PTA updated the standards, and now these are in use by schools, PTA and community leaders nationwide including the Colorado State Advisory Council for Parent Involvement in Education, as a framework for thinking about, structuring, and assessing family engagement. While researcher Joyce Epstein paved the way for parent involvement, two researchers and long-time PTA friends, Anne Henderson and Karen Mapp, continued to strengthen the importance of family engagement in their 2002 study, "A New Wave of Evidence:  The Impact of School, Family, and Community Connections on Student Achievement."  They found evidence clearly supports that when parents and families are involved at home and at school, children do better in school!  This includes higher grades, passing classes, and regular attendance at school.  This is true no matter what the family income or background may be! Parent involvement is a shared responsibility and my hope is that all parents and families:
Feel welcome in their child's school
Experience effective, two-way communication
Are given the opportunity to support their student's success
Feel comfortable to speak up for their child
Are asked to share the power in their school by being a participant in school decision making
It is through collaboration as parents, teachers, administrators, staff, and community that we will give the children of Colorado the greatest gift of all, a bright future. Michelle Winzent Colorado PTA President
National Standards Implementation Guide
The benefits of family-school-community partnerships are many: higher teacher morale, more parent involvement, and greater student success are only a few. That is why PTA developed the National Standards for Family-School Partnerships Implementation Guide, a tool for empowering people to work together with an end goal of building family-school partnerships and student success.
For each of the six National Standards for Family-School Partnerships, this online guide provides:
An explanation of each standard and its importance
Insights to help convince educators of the standard's value
A success story from a school community
Action steps for your school community
Resources to enhance your understanding
The full guide, downloadable as a PDF, provides additional details, background, research, and success stories.
Learn More
The National PTA Urban Family Engagement Network
Increases the number of families in urban areas who understand specific ways to collaborate with schools to support their children's education. Families learn how to navigate the local school systems and effectively advocate for better educational outcomes for all children.
Learn More
LOOKING FOR ALL THE LATEST NEWS? SEARCH THROUGH OUR NEWSROOM OR CHECK OUT RECENT HIGHLIGHTS HERE!
Have you ever felt that your PTA was an ATM for your school principal and teachers? Have you ever felt like your principal thought your PTA budges was his or her discretionary spending fund? Do you get requests from teachers and school staff to fund certain projects and items that really ought to be part of the school budget? You're not alone. PTAs frequently turn over their funds to school administration for such basics as books, equipment, and maintenance, not to mention extras, such as playground equipment and vending machines. The customs that have developed between PTAs and schools have blurred the line about what PTAs are; what vision, mission, and purposes we follow; and how our funds should be used. Vision, mission, and purposes PTA's vision is making every child's potential a reality. PTA's mission is to be A powerful voice for all children A relevant resource for families and communities A strong advocate for the education and well-being of every child PTA's purposes, or historical goals are as follows: To promote the welfare of the children and youth in home, school, community, and place of worship To raise the standards of home life To secure adequate laws for the care and protection of children and youth To bring into closer relation the home and the school, that parents and teachers may cooperate intelligently in the education of children and youth To develop between educators and the general public such united efforts as will secure for all children and youth the highest advantages in physical, mental, social, and spiritual education How PTAs work The national PTA organization is...